Handy Hints – Raise a Request
Details

Written by:

Teela Griffin

Penrith City Council

(02) 4732 7777

(02) 4732 7958

council@penrithcity.nsw.gov.au

https://www.penrithcity.nsw.gov.au

601 High St

Penrith

NSW

2750

Australia

Online Services Registration Tips
Registering to use our online portal will give you many benefits, including a digital record of all your requests in one easy to access location and being able to book a bulky waste collection booking at your own leisure.
Step 1: Go to my.penrith.city and select 'Register'.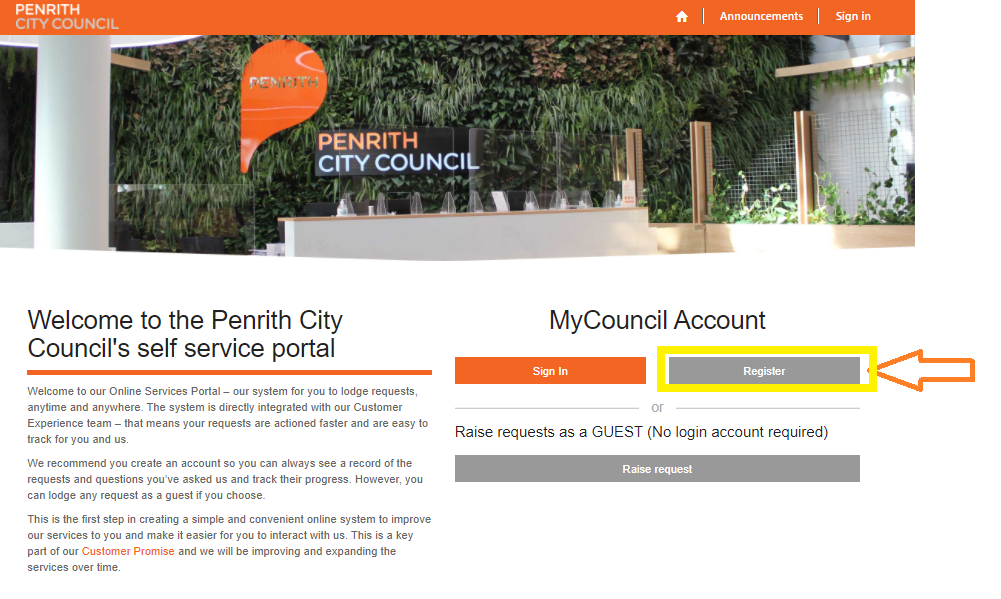 Step 2:
Enter your:
First name

Last name

Phone number (10 digits – no spacing or dashes, landlines must have the area code, mobiles should begin with 04 not +61)

Best email address (this will automatically become your username).
Passwords must be a minimum of 8 characters and contain at least three of the following: uppercase, lowercase, digit, or non-alphanumeric (e.g. !?).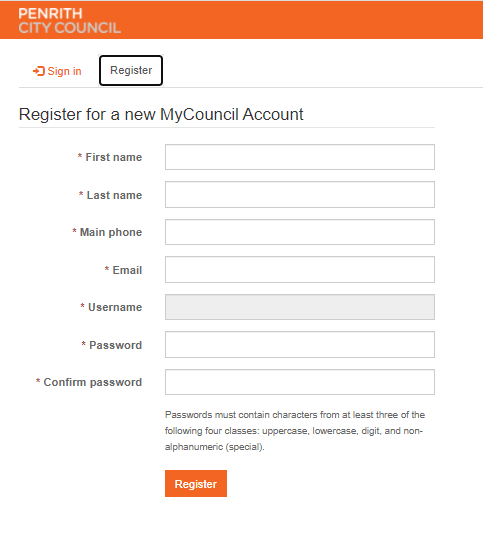 Step 3: 'Register' This page will now load

Step 4: Log in to the email account you nominated in Step 2. You will see an email from Penrith City Council with a verification link. If you do not see this email, please check your junk and spam folders. 
Step 5: Click on the verification link in the email, this will return you to the portal. This page will now load

Step 6: Refresh your browser

Please note: There may be a brief delay after email confirmation before the full menu appears. If the menu still doesn't appear please refresh again, in a few minutes. 
The tool bar will be updated, as below: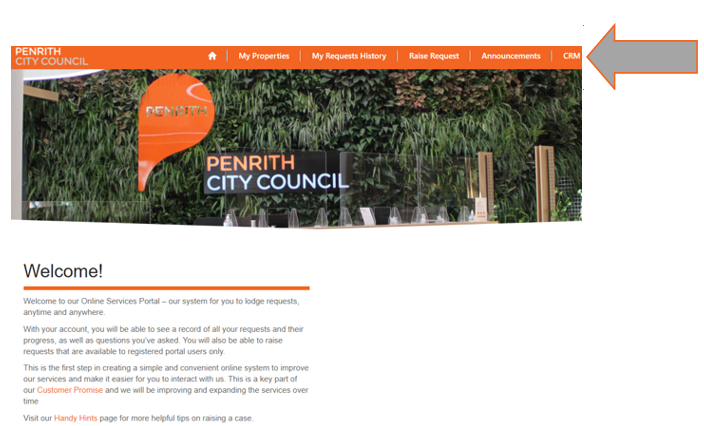 Online Services - Sign in tips
Signing in allows you to prefill your personal details, saving you time. It also allows you to view your current requests and any of your previous ones too. You can also interact with staff for further assistance using a feature called 'Portal Comments' if you are signed in. 
Step 1: Go to https://my.penrith.city/ 
Select 'Sign In' - in one of two spots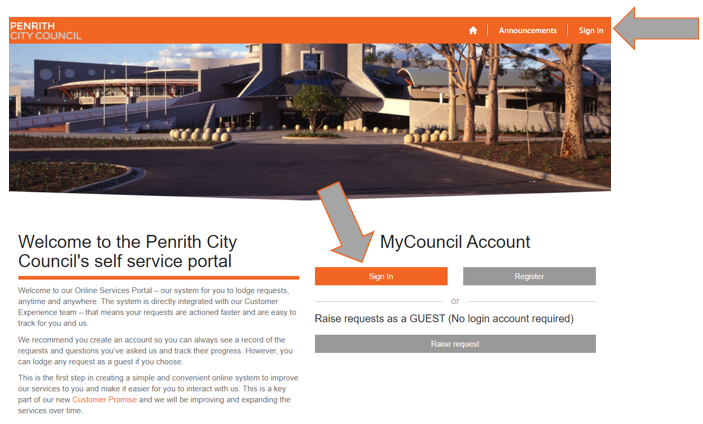 Step 2: Enter sign in details and select 'Sign In'.
Please note: Your username is the email address you nominated when registering your account.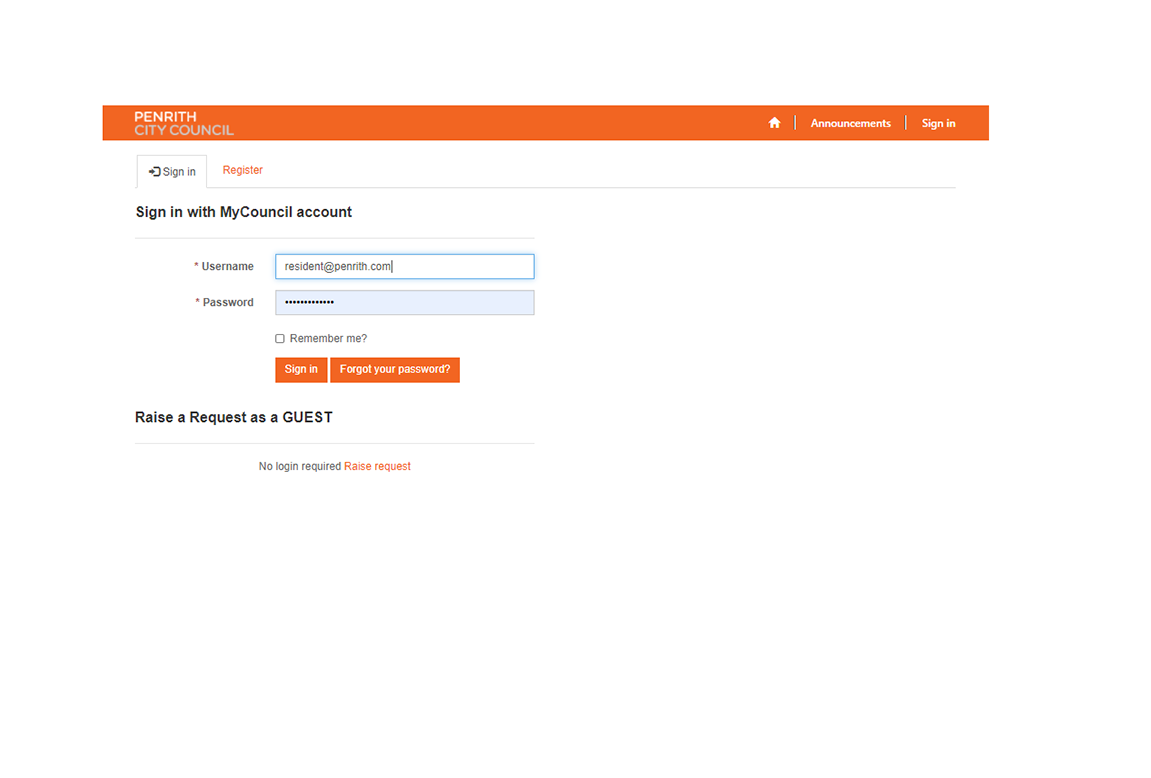 Step 3: Now you are ready to raise a request. Click on 'Raise a Request' on the top menu bar.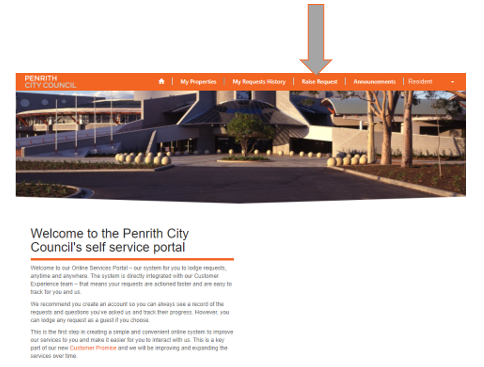 The Waste Spot - Address Search Tips
All requests in The Waste Spot require an address that has a valid bin service.  Each valid bin service is linked to a specific address that may be in a format different to those you, our customers, use.  If Council does have your address saved in a different format to how you refer to it, your search results when using The Waste Spot, will be impacted. We have a short list of tips to assist you in finding your address so you can complete your request easily. 
The tips will assist with searching for units, townhouses or properties that may have solidus (/), hyphen (-) or a letter as part of the number.
Please note: Addresses used in this example were picked at random from corner blocks or units to provide the best example of how to find your street address. 
Tips:
Using backspace or delete, will remove all the characters typed

1/1 may be known as 1a 

2/1 may be known as 1b  

1/79 may be known as 79a 

2/79 may be known as 79b  

3/10 maybe known as 10c 

4/10 maybe known as 10d 
You may know the address as 2/2 however the address in Council's official database is 2/2-4
Some granny flats are known only by the address of the main house
Corner blocks may be known by
Example 1:
Step1. First use the address as you know it – 1/2 Rance Road

Step 2. If it is not listed use the number before the street name only – 2 Rance Road

Step 3. If it is still not found remove all numbering – Rance Road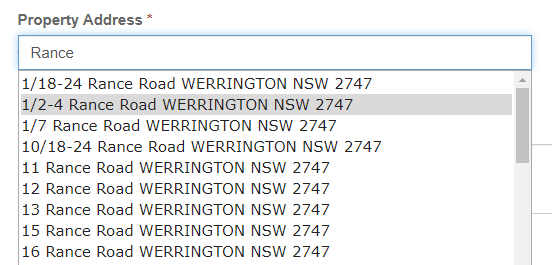 Example 2:
Step1. First use the address as you know it – 1/1 Barker Street

Step 2. If it is not listed use the number before the street name only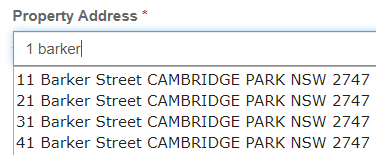 Step 3. If it is still not found replace the 1/ or the 2/ with and a or b respectively – 1a Barker 1b Barker street

Step 4. If it is still not found remove all numbering – Barker street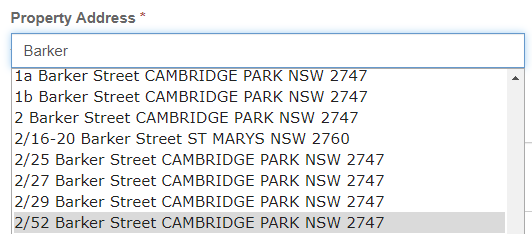 The Waste Spot - Bulky Waste Collection Tips
A request for a bulky waste collection can only be raised on the portal by 'registered' users. If you are not signed in, a message box will appear prompting you to do so. If a mandatory field marked with an * is not filled out, an error will occur.  
Step 1: When booking a bulky waste collection, you must be signed into your account. 
Please see 'Sign In' tips if you already have an account, or 'Registration' tips to create one.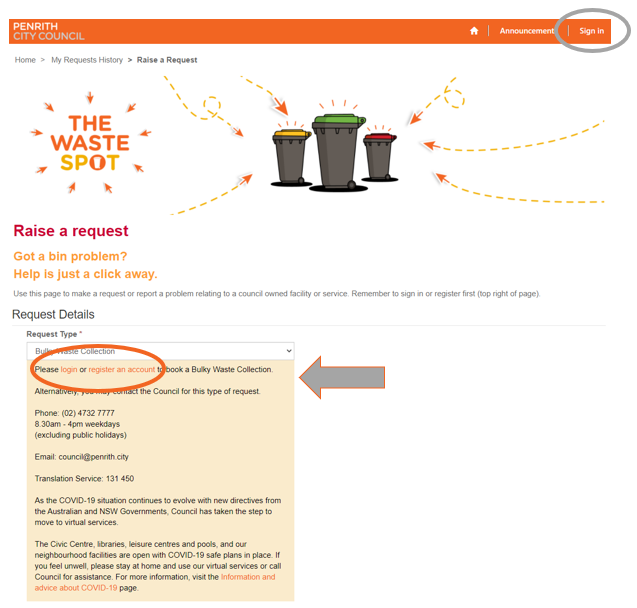 Step 2: Sign in at my.penrith.city
Select 'Raise a Request'
Select 'The Waste Spot'.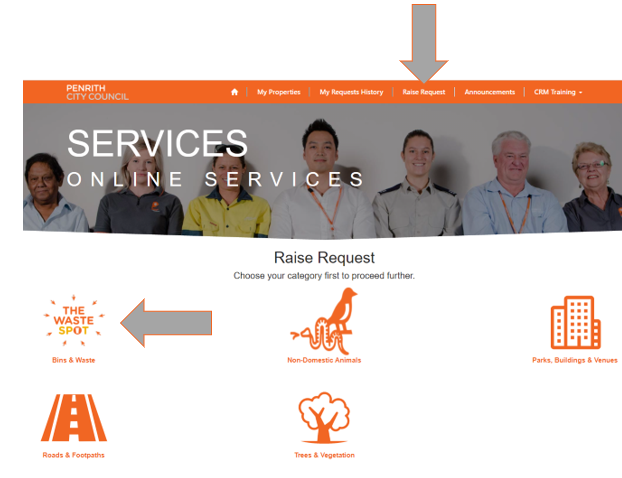 Step 3: Start from the top and fill in the form with your details.  
Select the small, downwards pointing arrow to select your 'Request Type' from the drop-down menu prior to completing other fields. 
Once 'Request Type' has been selected, 'Service Type' will automatically be selected (you do not need to do this yourself).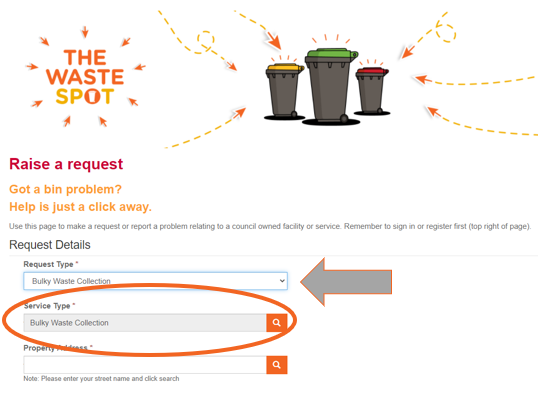 Step 4: Enter your property address in the 'Property Address' field. Press the looking glass icon to search.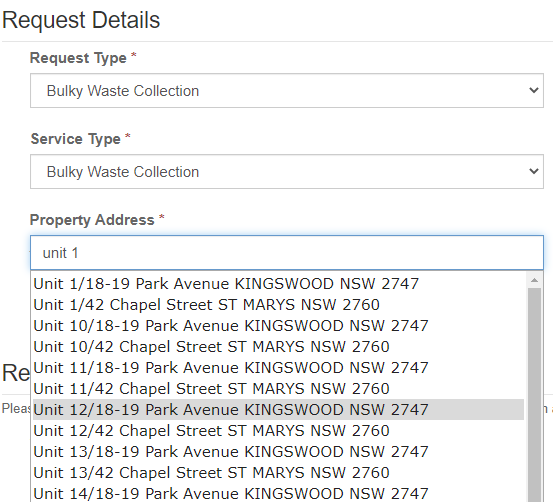 Please note: Abbreviations such as st, rd, cct etc. will not provide accurate search results. Please type out the full word as required e.g. Street, road, circuit etc (see Address Search tips)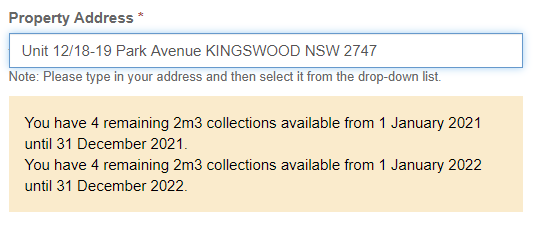 Please note: Council may have your address saved in a different format to how you know it. This is common for units or strata titled houses, e.g. 1/7 instead of 7a See address hints
Step 5: Once your address has been successfully selected, a pop-up box will appear, notifying you of your remaining number of bulky waste collections for this year.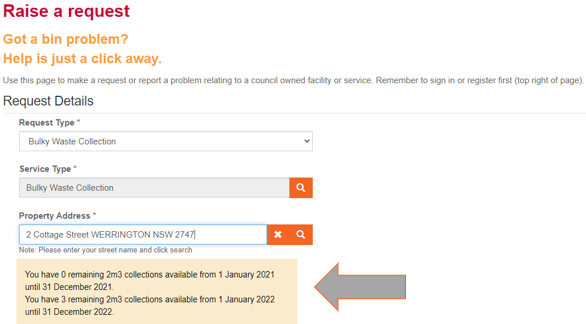 Step 6: Please read all fields carefully and select those that are relevant to your collection.
If you have a mattress, you will need to advise how many, noting that you cannot have more than four per booking.
Select your collection size from the drop-down menu.
If you have not completed everything here, you will not be able to progress further.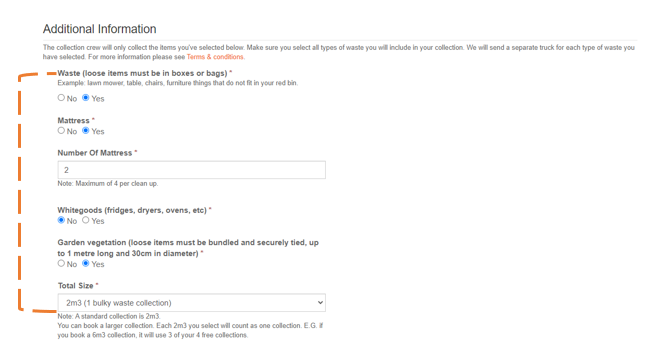 Step 7: When you click into the month field, this screen will pop up.  
By selecting 'OK,' you are locking in a bulky waste collection for the items you checked 'yes' to and the date you are about to select. 

Step 8: Click in the month field again and selected your preferred month.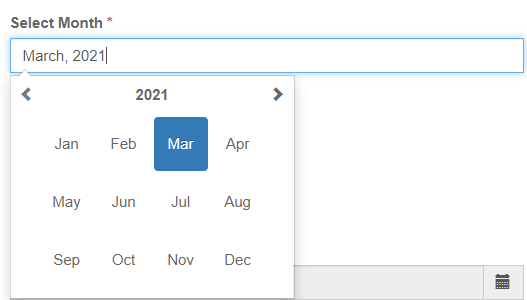 Step 9: The system will now show all available dates for your property for that month.   
Please select the date most suitable for your household from this list.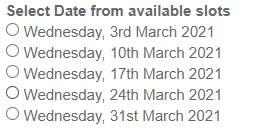 Step 10: You can now see the date the collection will occur. Please place your items on the kerbside correctly the night before (please visit penrith.city/bulkywaste for more information on correct and accepted presentation).  
Enter any additional notes that may assist the collection trucks on the day.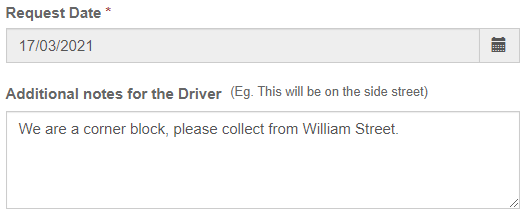 Step 11: 'Requestor Details' will auto-populate. 'Requestor Details' will auto-populate.
Please ensure you tick the boxes acknowledging the T&Cs and collection of information in accordance with our privacy policy.
Select 'Submit'.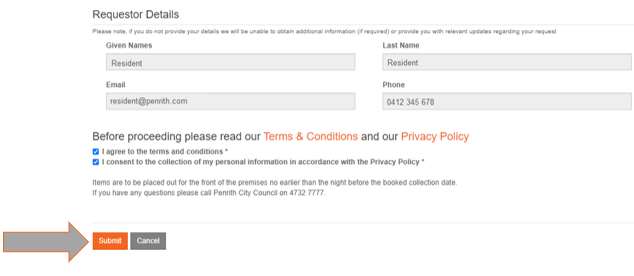 Step 12: A confirmation email containing the booking reference number and booking details will be sent to your nominated email address.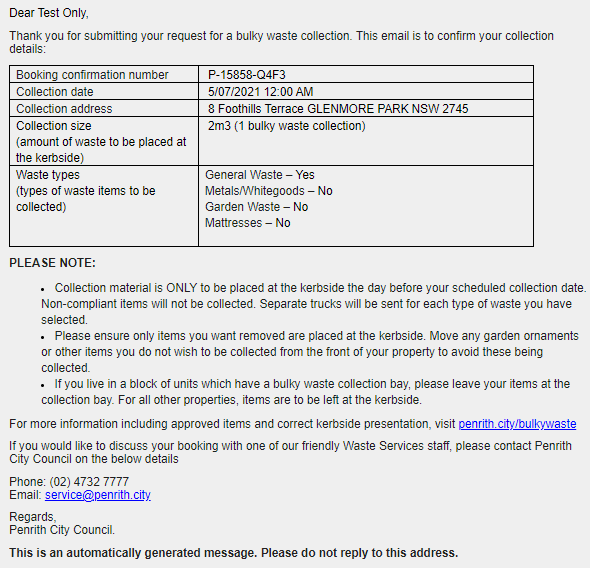 How to submit a maintenance request - Council Parks Buildings and Venues
1. Go to https://my.penrith.city
2. Login to your account
3. Select Raise Request
4. Select Parks, Buildings & Venues
5. Select the most appropriate Request Type from the drop-down menu.
6. Include as much details as possible in the Request Details field.
Please note: Specific details about the request will help Council understand the issue and improve completion time.
Tips:
Add specific field numbers (If known) e.g., Jamison Field 1

Identify locations with compass direction e.g., South-eastern quarter

Use meters figures e.g., 5 metres from the sideline

Think of the quantity e.g., 2 Floodlights globes out
7. Attach photos of the issue.
8. Click Submit.Your request will be saved in "My Request History".
A confirmation email will be sent to the email address including a reference number.
How to review request history?
1. Login to your account.
2. Click on My Requests History
3. Select My Open Cases, My Closed Cases or All My Cases.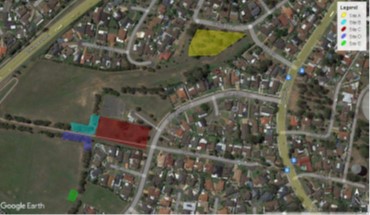 All cases will populate similar to below: