Publications for Sale
Details

Written by:

Adam Gatt

Penrith City Council

(02) 4732 7777

(02) 4732 7958

council@penrithcity.nsw.gov.au

https://www.penrithcity.nsw.gov.au

601 High St

Penrith

NSW

2750

Australia

All publications listed on this page are available from any Penrith City Library branches. Postal orders can be addressed to the Research Services, Penrith City Library, PO Box 60, Penrith, 2751, NSW, Australia or email This email address is being protected from spambots. You need JavaScript enabled to view it..

Penrith: The Makings of a City , by Lorraine Stacker is on sale at Penrith City Library branches, Council's service desks, the Visitor Information Centre and all good bookstores.
The book is an authoritative account of the City's history to the 21st century and a companion volume to the 1988 Council-funded Dharug and Dungaree: The History of Penrith and St Marys to 1860 . Author of the new volume, Penrith City Library's Information Librarian Lorraine Stacker , says the new historical account acknowledges the strength of the people of Penrith and their faith in their community.
"It's a story full of the highs and lows that are reflected in the broader history of Australia," she said. The book encompasses the history of all the districts, villages and towns that make up the City of Penrith. Penrith: The Makings of a City is 472 pages and contains 193 images, with a combined 31-page index of both volumes. It also has a comprehensive bibliography for further reading and a chronology of historical events. $50
---

Dharug and Dungaree: History of Penrith & St Marys to 1860
368 pages, illustrated, notes, bibliography, index Detailed history of the penrith district to the 1860's. A companion volume to " Penrith: The Makings of a City ". $20
---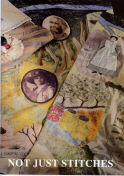 Not Just Stitches
37 pages, colour illustrations. Background history to the embroidered wall hangings (now hanging in Penrith City Library) by 100 local volunteer embroiderers, featuring the history of local women. $10
---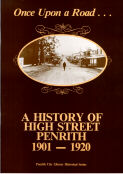 Once Upon a Road. A History of High St., Penrith 1901-1920.
60 pages, illustarted, index. A profusely-illustrated depiction of the events, people and scenes of Penrith's High Street between 1901-1920. A quality production. $9
---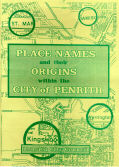 Place Names and Their Origins Within the City of Penrith
25 pages, illustrated, index. Traces the origin and meaning of 36 place names of the Penrith City area. $3
---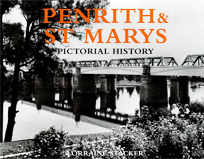 Pictorial History: Penrith & St Marys by Lorraine Stacker
140 pages, index, bibliography, chronology.
Over 160 photos, covering every suburb in Penrith City. Includes Aboriginal history and European discovery. Written by Penrith Library's Information Librarian, Lorraine Stacker. $25