Arts, Culture and Creativity
Details

Written by:

Adam Gatt

Penrith City Council

(02) 4732 7777

(02) 4732 7958

council@penrithcity.nsw.gov.au

https://www.penrithcity.nsw.gov.au

601 High St

Penrith

NSW

2750

Australia

Arts, culture and community are vital to establishing Penrith as a growing, creative city. By building a strong and vibrant arts and cultural sector we can keep and attract talented people who want to live, work and invest in our area.
Below is a selection of current arts initiatives and you can visit previous projects on the Culture & Creativity website
Visit the Culture & Creativity website
Artist Opportunities
Are you an artist looking for paid opportunities to work on Council's public art, creative arts and CACD projects across our local neighbourhoods? All professional Western Sydney artists are encouraged to register with VendorPanel for the opportunity to work on projects with Penrith City Council, other councils, government departments and organisations across Australia.
Registering with VendorPanel means Council can include you in relevant offers, such as Requests for Quotes, Expressions of Interest, and Tenders. Register here.
Who can apply?
We encourage professional artists in Western Sydney to register with VendorPanel for paid work opportunities with Council. Artists are required to have an ABN to register.
What is VendorPanel?
VendorPanel is a secure online portal Council uses to identify and engage with suppliers for projects. Council uses the portal for transparent procurement where we offer both invitations to quote and manage the quoting process.
How do I register?
Registration with VendorPanel is free. All you have to do is register your business under "Graphical, Photographic and Art" and select your applicable categories.
For further information
If you have any questions, please contact the City Engagement Coordinator on 4732 8270 or This email address is being protected from spambots. You need JavaScript enabled to view it.
Magnetic Places
Creative placemaking grants are available every year to Australian artists and community organisations for exciting projects that bring residents together, in new ways, to transform how they see and feel about the places where they live.

Across 14 years, the Magnetic Places Grants Program has produced 104 creative projects, transforming places in local communities living with disadvantage, and championing collaboration and culture. The grants programs is for projects with communities in these priority neighbourhoods: Cambridge Park, Colyton, Cranebrook, Kingswood, Kingswood Park, Llandilo, Londonderry, North St Marys, Oxley Park, Penrith (suburb), St Marys, Werrington.
For more information go to https://www.penrithcity.nsw.gov.au/community-library/community/grants#quick-link-3
Past Projects
Skirts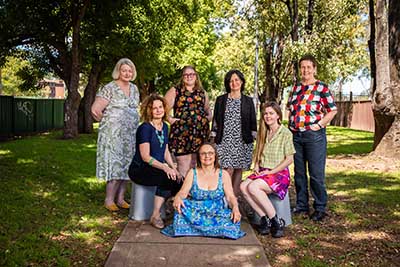 Penrith City Council has partnered with the Museum of Contemporary Art Australia (MCA) for this year's C3West program, Skirts, examining issues around women's community safety in Kingswood. Working with Western Sydney-based artist Linda Brescia, Skirts brings women from Kingswood and surrounding suburbs together to demonstrate the power of the collective.  
Curated by MCA Senior Curator of C3West, Pedro de Almeida, Skirts is a group with a vision - they are the women who live, work, study and socialise in Kingswood and who aspire for positive change for themselves, each other and their community. Skirts seeks to address concerns around community safety, connection and public amenity, with a focus on the aspirations of women living in Kingswood.  
For more information https://www.mca.com.au/artists-works/c3west/linda-brescia-skirts/
Magnetic Places Arts Trail
22-24 October 2020 - Coachmans Park, St Marys
Dear Tree by Rose Ertler
People were invited to get comfy in their gardens or local park and use their phones to record audio letters, starting with 'Dear Tree…'. These 'letters' to nature were remixed with local ambient sound to create a unique sound composition. This sound composition was broadcast via tree-mounted speakers to create a Sound Space in Coachmans Park as part of the Arts Trail. You can immerse yourself in this composition by listening online.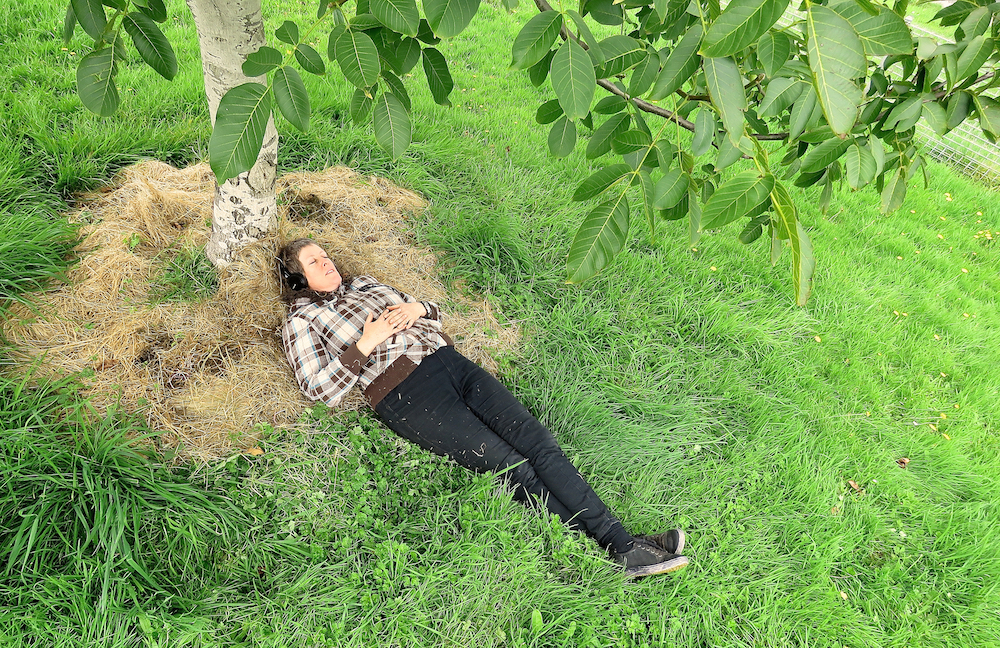 Our Symphony by Luke Hespanhol with Abhiruchi Chhikara
Did you know there are sounds that move light? Penrith residents created interactive audio-visual artworks via an algorithm that re-mixed sounds they created to trigger an array of coloured lights from the stage in Coachmans Park during the Arts Activation. People used the Our Symphony app to create their own sounds before the event and also live on the night, much to the delight of children who chased the lights across the ground.
Have a go yourself at oursymphony.online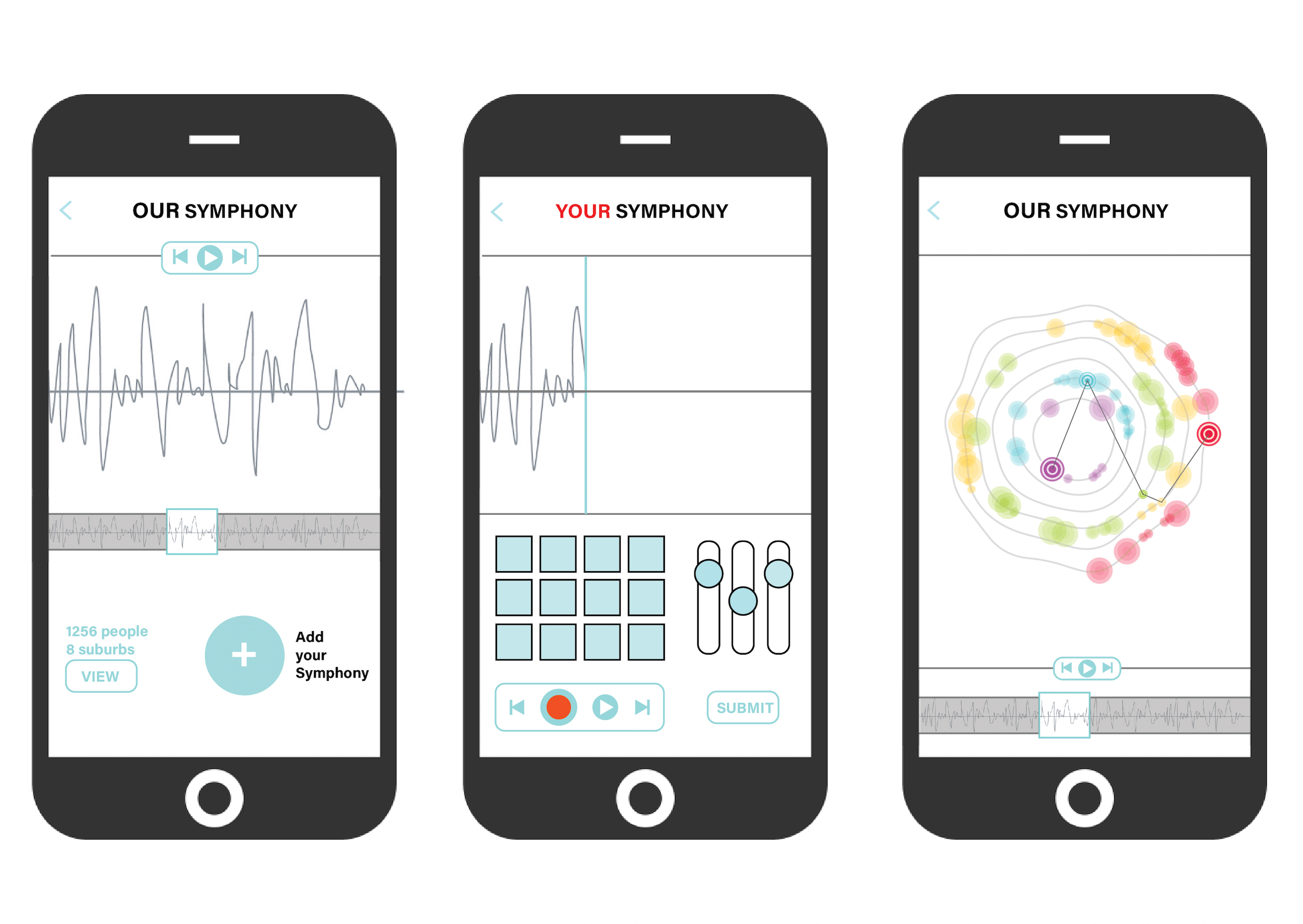 REConnection by XYZ Dimensions
A spaceship landed in St Marys! That's right, a 1-tonne, 9-metre spaceship stopped in the West Lane car park for two nights to surprise and delight alien-lovers of all ages with an incredible visual spectacle. People driving by were shocked enough to return later with family and friends for a closer look.
Whisper by Office Feuerman
A shining arch in Coachmans Park invited passers-by to whisper into each other's ears– while maintaining a safe distance. Hidden within the segmented, polished chrome panels of this temporary work of public art was a speaking tube. Park visitors could speak quietly into the crook of the arch at one end and be heard by someone 4m away at the other end of its sweeping curve.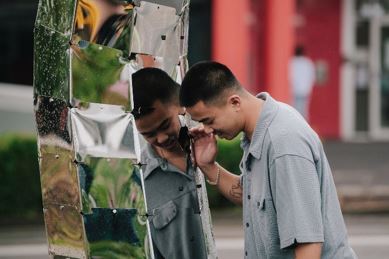 Online Projects
Postcards from Home by Fusion Western Sydney
Old school access captured hearts in this project. Freely available printed project postcards invited people to connect safely and share their reflections on social isolation during lockdown in 2020. Community groups also included this project into their program of activities. People's postcard contributions were styled by the project artist for sharing via Instagram. You can view the curated collection of submitted postcards online.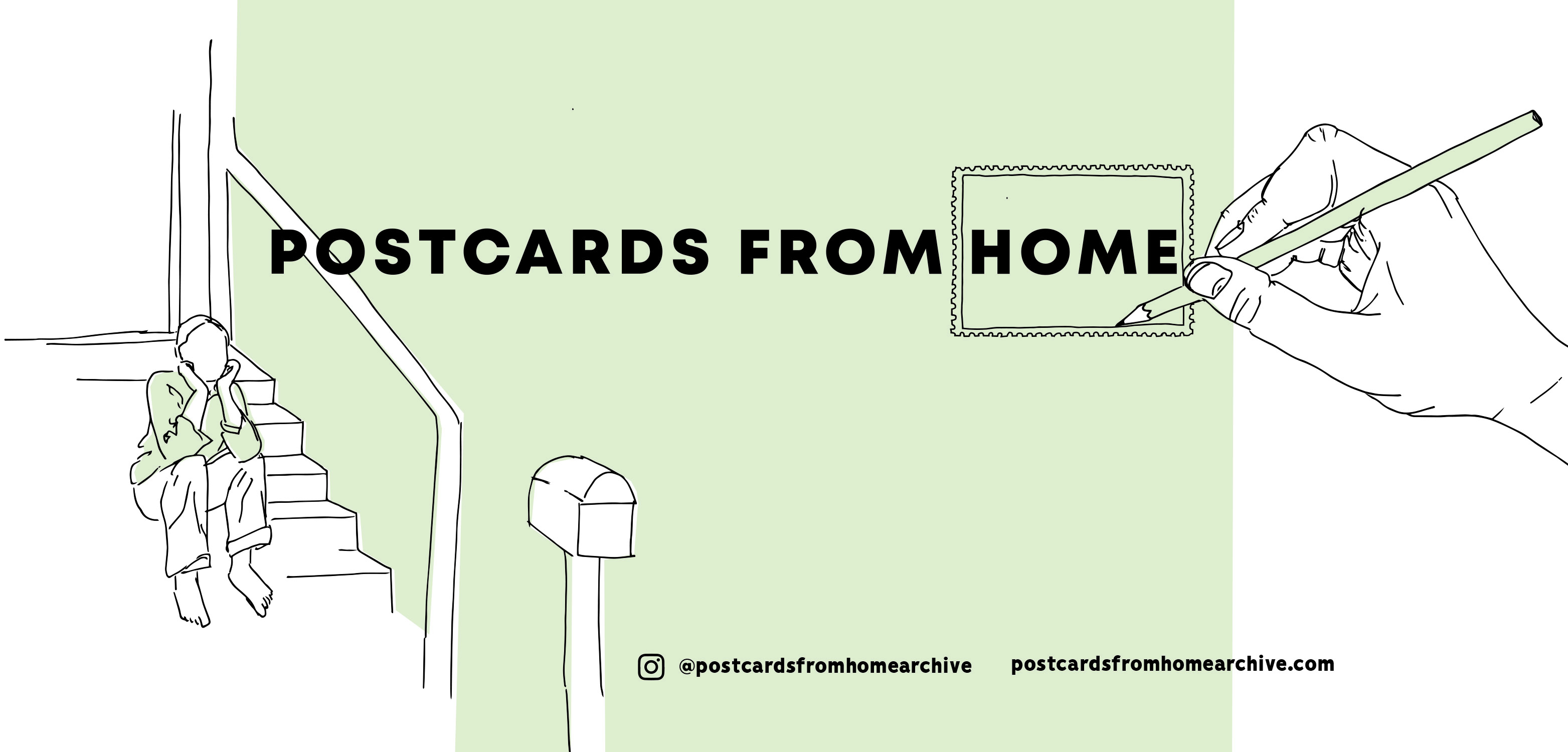 A Cup Across the Fence_Clay Symphony by Varuni Kanagasundaram
Love a cuppa and a good ol' chat with your neighbour?
The residents of Cranebrook, Kingswood, Werrington and Penrith have recreated this much-loved pastime, but with a difference. Enjoy this unique 'Clay Symphony' online.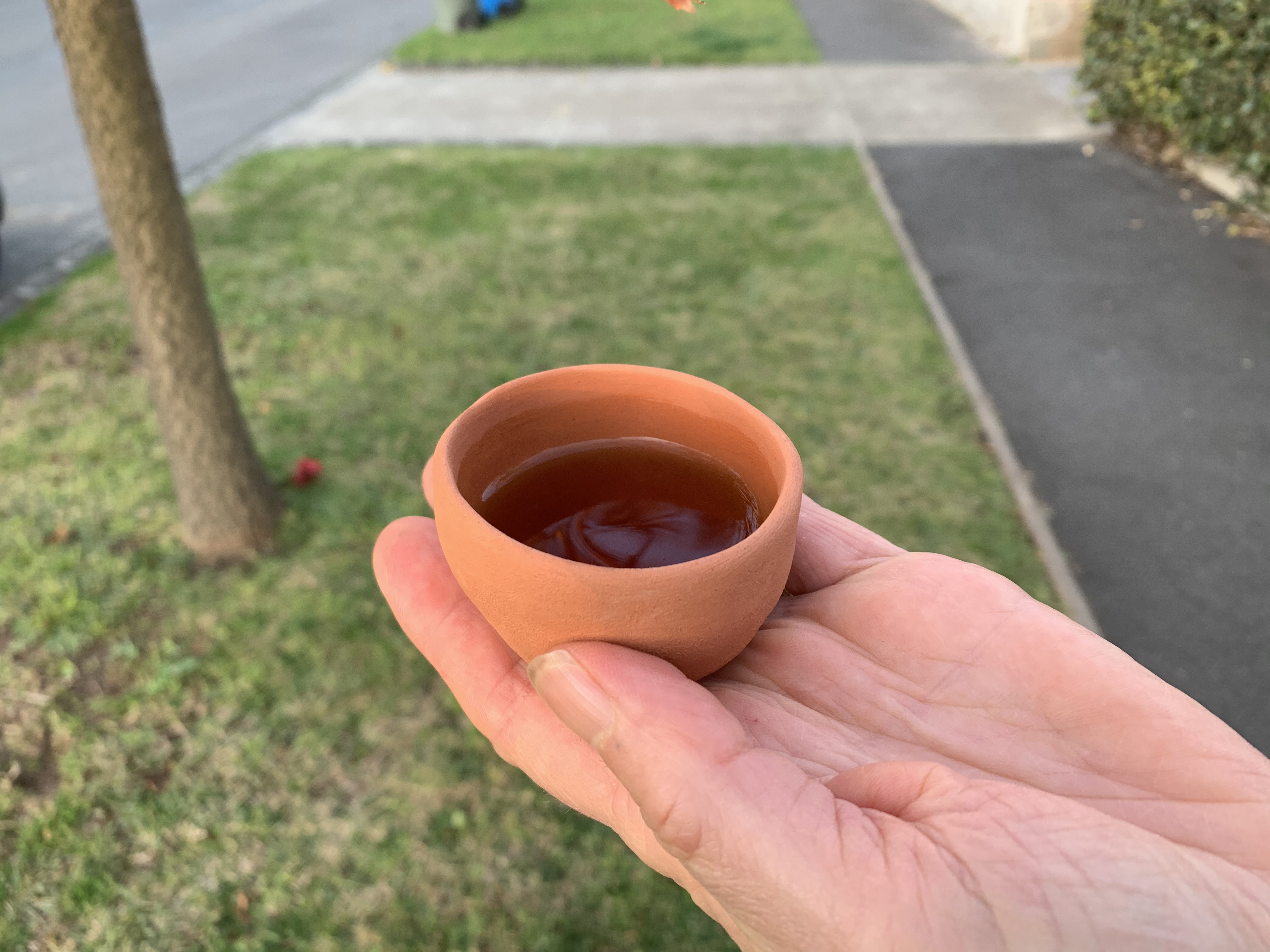 The DIG Digital Maker Space Penrith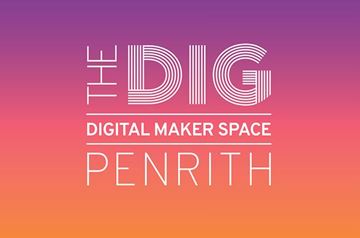 What was a vacant space in Allen Arcade at the centre of Penrith city became the DIG Digital Maker Space for new, exciting works created by emerging Western Sydney creatives. As the pop-up home for the Digital (DiG) Space Mentorship and Residency Program, the DIG Space supported three rounds of emerging creatives– all within the first five years of their careers– through 16-week programs of professional creative and business development workshops, professional development and networking opportunities, and full access to the DIG Space.
During their residency, DIG Space artists collaborated with each other to develop and produce high quality digital content for public experience (see links below). For more information about all three rounds of the program and each collaborative artist brief visit culturecreativity.com.au/projects/DIG-digital-maker-space
DIG supporters: Create NSW with Western Sydney University - Academic Program Design, Parramatta Campus and the Music Unit Kingswood, TAFE NSW – Nepean Arts & Design Centre, Kingswood and The Penrith Performing & Visual Arts Ltd (PP&VA)
Created by Round 1 artists: Neil Hawkins (Graphic Designer), Me-Lee Hay (Composer), Petar Jovanov (Composer), Peter Long (Composer), Adam McPhilbin (Cinematographer)
Mentor: David Clarkson
Created by Round 2 artists: Carey Day (Photographer), Nathaniel Morrison (Graphic Designer), Daniel Portelli (Composer), Wesley Stormer (Composer)
Mentor: Penny Robbins
Created by: H.S. Botha (Multidisciplinary Artist), Tim Hans (Composer/Musician)
Mentor: Andy Nehl (Mentor)
Queen Street Riches & Textures
Produced in partnership with the St Marys Corner Community and Cultural Precinct this annual project provided mentorship opportunities to local design graduates from Western Sydney University to:
engage with the local St Marys community
produce creative collaborative works
use those works to explore social interactions between community, people and places.
A creative brief exploring people and place was provided to assist in building professional and creative capacity through mentorship and also community engagement experience through support in engaging with people in St Marys (residents, traders, students, visitors and more).
Since its inception in 2012, Queen Street Riches and Textures has:
produced seven diverse projects celebrating people and place in St Marys
attracted the participation of more than 300 local residents
provided professional development for 50 art students and emerging artists
cooperated with partner organisations, regional educational institutions, and community organisations.
For more information on Queen Street Riches and Textures visit the Culture and Creativity website or use the project links below.
QSRT 2012: Queen Street of Hearts
QSRT 2013: Faces of St Marys
QSRT 2014: Soundlapse
QSRT 2015: Sharing the Seeds
QSRT 2016: Surfaces, Angles, Corners
QSRT 2017: A Temporal Skin St Marys
QSRT 2018: Windows on Queen
Mayoral Arts & Culture Summit
Early in 2015 Council co-funded a Deloitte Access Economics report Building Western Sydney's Cultural Arts Economy, which highlighted glaring inequities in State and Federal funding for the arts.
In response, then former Mayor Ross Fowler OAM called for a summit of Penrith, Hawkesbury and the Blue Mountains' arts and cultural representatives to express their priorities for the growth of arts and culture in Penrith and the broader region.
Supported by Blue Mountains City Council and Hawkesbury Council, the Summit was attended by over 100 artists, creative entrepreneurs, educators, arts and cultural groups, and key stakeholders to identify the opportunities and priorities to grow the arts and culture sector in our region.
This report provides an overview of the Summit proceedings and the main priorities that emerged from the discussions in the workshop groups. It is these priorities that are the basis of a campaign for action including ensuring that Penrith and our region receive a fairer share of federal and state arts and culture program and infrastructure funding.